In the past year, the U.S. Dance Community, and the world around it, has been turned on its head. As people have either chosen action or inaction, we have seen some of the truth of what lies behind our "community", and more places we need to evolve.Freedom Movement is a diverse group of dancers advocating for liberation in the dance community and beyond. Our mission is to educate and promote equity, justice and healing in the dance community, and to continue to fight the underlying issues that hold us back from being a truly united community.To help us towards our goal, we created The Invitation; real people talking about real sh*t.The Invitation was a 2.5 day conference that boldly addressed many dynamics of white supremacy, specifically its traumatic effect in our dance community mentally and logistically and how to heal it.Our community members in Europe reached out to request a re-screen because the hours of the conference were not compatible for most people in the CET and surrounding time zones.The Europe Screening of The Invitation will be a replay of the conference as it was but without the recorded panels, and will conclude with a LIVE panel for people in Europe to ask questions that are specific to their challenges in Europe.We invite you to listen, and learn and share community with us as we move toward change in dance and in our world. Be there or be a "Black square."
SCHEDULE:
*All times listed in CET
As this is a screening all times are approximate after the start time:
APR 24
11.30 AM Zoom opens
12.00 PM Racial Healing – Dr. Damon Silas
1.00 PM Managing Difficult Conversations – Hurrikane
2.00 PM Let's Get Real – Soul
3.00 PM Sexism & Feminism: Shortening the Gap of Understanding – Jojo
4.00 PM Diagnosing the Dance Community – Jay Love
5.00 PM Conclude Day 1
Apr 25

11.30 AM Zoom opens
12.00 PM Homophobia in the Dance Community – Soul & X-Savior Thomas
1.00 PM Anti-Blackness in Latin and Asian Communities – Jacq & Isis
2.00 PM Walking Wounds: Breaking the Cycle of Abuse – Jay Love & Jojo
3.00 PM
LIVE Panel*
5.00 PM Conclude Conference
*LIVE Panelists
: Jade "Soul" Zuberi, Jay Love, Jojo Diggs, Brice "Professor Lock" Johnson
Pricing:
25 Euro per person
100 Euro for playback
Venmo/Paypal @freedomovement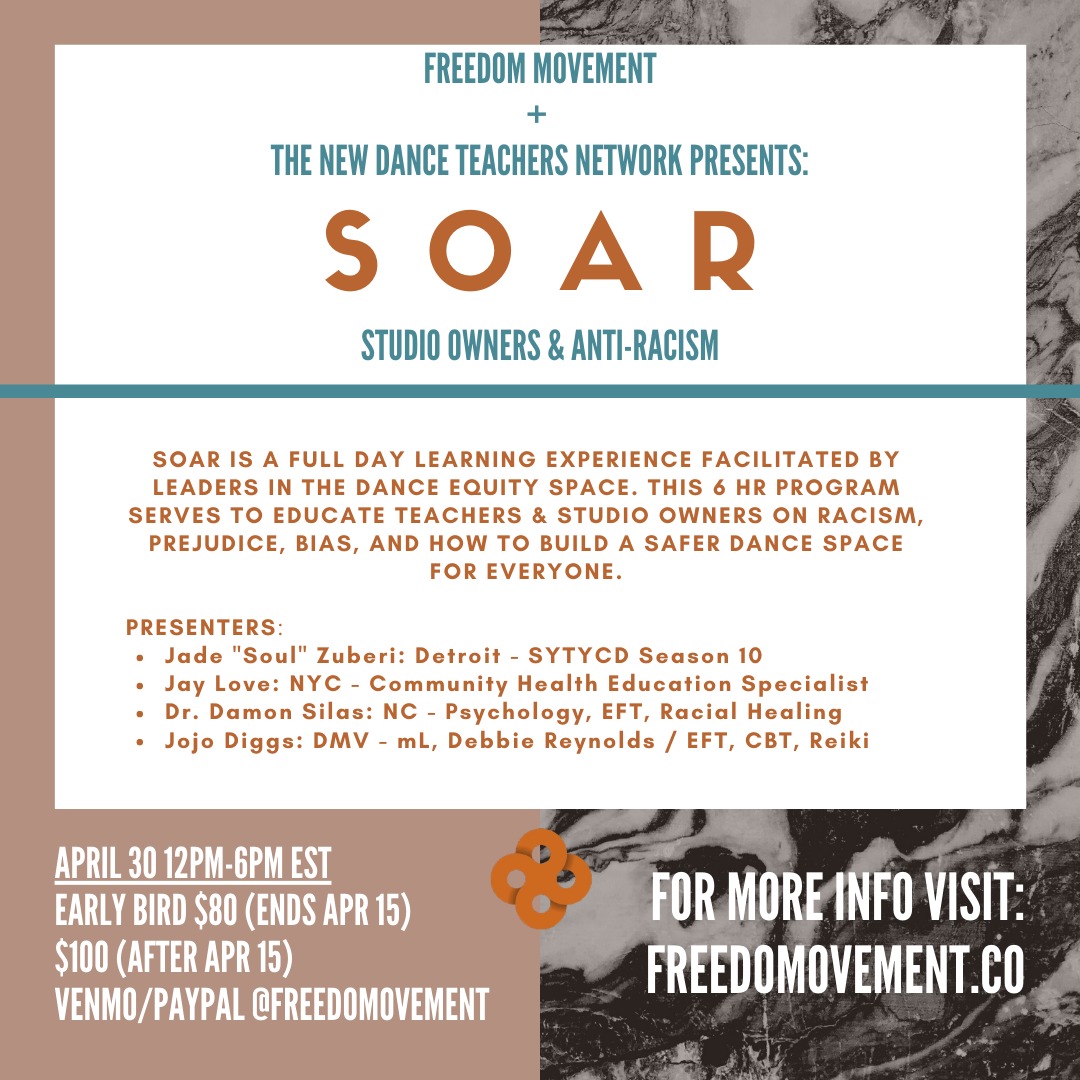 SCHEDULE:
*All times are listed in EST
APR 30
11:30 AM
Zoom doors open
12.00 PM
Jay Love – Layers: Foundational knowledge of Racism & Race
Neither equal nor equitable, our country serves as an example of racial inequality and injustice. Unpacking the frameworks of our social environments, Layers: Foundational Knowledge of Racism & Race will lay the groundwork for understanding the oppressive system in which we all exist.
1.00 PM
Jojo Diggs – From One To One: A Journey From Individualism To Collectivism
Jojo takes a deep dive through her journey in waking up to her privilege, dismantling her inherent bias and how that affected how she navigates in community. Jojo is a firm believer great people cause harm because of their lack of awareness, not goodness and through this lecture she hopes to presence the imperative need to move past our own thinking by challenging what we think we know.
2.00 PM
Jade "Soul" Zuberi: Myth Busters
Shattering & disrupting false narratives that have upheld White Supremacy for centuries to shift the perspective from ignorant to informed.
3.00 PM
Dr. Damon Silas: Navigating the Dance Between the Brain and Race
When it comes to conversations about race and racism, we want our brain to do all the leading and heavy lifting. Rightfully so. After all, our brains have gotten us as far as they have for a reason. They have kept us safe and alive up to this point. So why ruin a good thing? Well, this talk will discuss the psychology of how our brains operate in these conversations; what happens in our bodies when our brains fire off; and how to begin to shift the focus to and through our bodies and our hearts, ultimately allowing compassion take the lead. By using such tools as mindfulness, breath work and Emotional Freedom Techniques (aka EFT Tapping), we can begin to engage in these conversations and insights in a more powerful and present way.
4.00 PM – Break
4.30 PM – Q&A
6.00 PM – Conference concludes
Pricing:
Early Bird: $80 (Avail until Apr 15)
Standard Rate: $100 (Apr 10-30)
Playback: $200 (vidoes will be viewable online after the event with a password access)
Venmo/Paypal @freedomovement
PRESENTERS
Jade "SOUL" Zuberi: Detroit - SYTYCD Season 10
Jay Love: NYC - Community Health Education Specialist
Dr. Damon Silas: NC - Psychology, EFT, Racial Healing
Jojo Diggs